---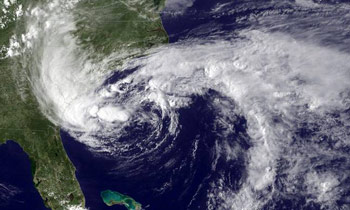 The Cyclonic storm MORA, which originated over the Bay of Bengal, is moving away from Sri Lanka and is expected to make landfall today along the Bangladesh coast, the Disaster Management Centre (DMC) said.
It said strong winds with a speed of about 80 kilometres an hour could be expected over the country, particularly over the western slope of the central hills and surrounding sea areas.
The DMC said showers or thundershowers would occur at times in the Western, Sabaragamuwa, Southern, North-Western and Central provinces. Heavy rainfall of about 100 mm can be expected at some places. It said showers or thundershowers would also occur at several places in the Northern and North-Central provinces and in the Trincomalee District.
The sea areas off the coast extending from Puttalam to Trincomalee via Kankesanturai and from Galle to Batticaloa via Hambantota can be very rough at times as the wind speed can increase up to 70 to 80 kmph. The other sea areas around the island can be rough at times with the likelihood of wind speeds increasing up to 60 to 70 kmph.