---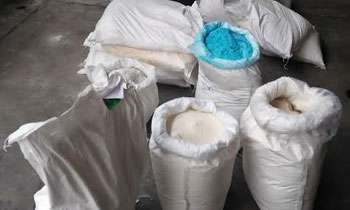 A stock of the banned chemical Glyphosate worth Rs.20 million, was seized at the Rank Container Terminal (RCT) in Orugodawatta today, Customs Media Spokesman and Deputy Director Sunil Jayaratne said.
Speaking to the media, he said during the investigations, Customs officers found 10,800 kilograms of Glyphosate powder.
"The 40-foot container had arrived at the Colombo Port from India on April 7 with 28,000kg Dolomite and illegal Glyphosate. The container was loaded with sacks of Dolomite and the consignment declared as Dolomite," Deputy Director Jayaratne.
"Some 17,000 kilograms of Dolomite worth Rs.300,000 and 10,800 kilograms of Glyposate worth Rs.20 million were detected. It is illegal to import Glyphosate to Sri Lanka. We will re-export the seized Glyposate and never allow to be used in Sri Lanka," he added.
Further investigations are being conducted by Preventive Directorate of SL Customs. Two persons including wharf agent have been questioned with regard to the incident. The importer who was identified as a businessman from Kakirawa, is still missing.
The raid was carried out on the instructions of Director of Customs (Preventive Directorate) H.K.J Fernanado, under the supervision of Deputy Director (Preventive Operations) M.G.W. De Silva. Investigations were carried out by Chief Preventive Officer Y. Sri Lal De Alwis, Chief Assitant Preventive Officer (Gates) T. Sivapalan, Assistant Preventive Officers A.K Kelum Thushara, T.S Senanayake and W.M.M.P Dharmarathne. (Sheain Fernandopulle)