---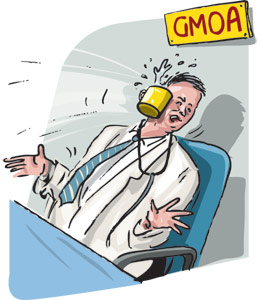 A doctor of the Government Medical Officers Association (GMOA) was admitted to the National Hospital last evening with injuries to his nose after being hit on the face by a cup thrown at him by a fellow doctor during a forum held at the Sri Lanka Foundation Institute (SLFI) over the SAITM issue.
The National Hospital Police said a complaint had been lodged by the injured doctor to that effect.
Sources said that the injured doctor was attached to the National Hospital. Both the Maradana and Cinnamon Gardens Police stations are carrying out investigations into the incident.
The incident had occurred during the tea break of a discussion entitled 'Let's conclude the SAITM conflict' which commenced at 1.30 pm yesterday at the SLFI.
It was reported that an argument had taken place among two groups of doctors over the SAITM issue resulting in fracas.
However, when contacted, the GMOA refuted the news report and said no doctor was assaulted at the forum and all the doctors present at the event held one opinion over the SAITM.
"All the doctors at the event were GMOA members and all are against the SAITM. A teacup of a doctor, who was standing, had fallen on to the nose of another doctor who was having his tea seated. That's how the doctor's nose was injured. No clash took place at the event," GMOA Assistant Secretary Dr. Nalinda Herath told Daily Mirror. (Lahiru Pothmulla and Darshana Sanjeewa)