---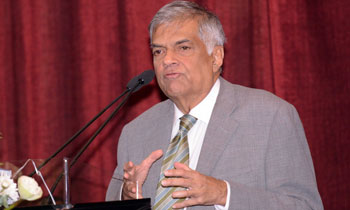 The Constitution Assembly Steering Committee will meet next week to decide on the procedure to be adopted when enacting the new constitution, Prime Minister Ranil Wickremeisnghe said today.
He said this when addressing a conference on the new constitution organized by the onstitutional Assembly Secretariat and pointed out that the Steering Committee at its meeting next week would decide whether to include all provisions of the constitution in the interim report or to include only the provisions which did not need a referendum.
"Do we include all provisions or do we only include those which do not need a referendum in the steering Committee report? This is one of the questions we will debate next week. We are reaching a crucial stage in the consensus building process on the constitution," the Prime Minister said.
"We have decided on an electoral system with 60 per cent under the first-past-the-post system and 40 per cent on the proportional representation system. Some smaller parties have submitted proposals on this matter which we need to discuss. We also have to decide on the legal procedure to be followed if and when the Bills are challenged. The necessary legislation has been decided by Parliament. Have we to transmit this to Supreme Court or are we to have a separate mechanism. There is also an agreement on a senate. How the members are elected and the powers it will have will have to be decided. How are we to exercise executive power in relation to the 13th amendment? Executive power will remain with the central government. When we strengthen Parliament we have to decide how to keep the power of the executive during an emergency. We have to discuss these matters in full," he said. "There is no provision to take away the prominence given to Buddhism. The question is how to give members of other religions the right of worship," he added.
Mr Moseneke in his address said how an interim constitution was prepared before the preparation and enacting a fully-fledged constitution in that country. Also he related how the rights of minority whites, rights of mixed races and all 11 ethnic groups in South Africa were ensured by South Africa. (Yohan Perera)