---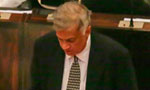 The Government said yesterday there was no legal provision to hold the local government election till the issues pertaining to the de-limitation of wards were resolved.
Prime Minister Ranil Wickremesinghe, who responded to a question asked by MP Dinesh Gunawardena in Parliament, said the deadline to submit petitions to the committee looking into shortcomings had been further extended, as more complaints were coming in continuously even after the earlier deadline had lapsed. He said the elections would be declared as soon as the shortcomings were rectified. "Even Lorenzo de Almeida would have done the de-limitation better," Mr. Wickremesinghe said.
Mr. Gunewardena who responded said the deadline given to submit complaints to the committee appointed to look into the shortcomings was to have ended in November 30, 2015 and then extended up to February 2016 but now it had been further extended for the third time. This he said was a tactical move to postpone the elections and highlighted the fact that the work of the local government bodies was now at a standstill.
Chief Opposition Whip Anura Kumara Dissanayake said the local government election was postponed because of political disadvantages faced by the two main allies of the government. He said one of the main reasons was the divisions within the SLFP led UPFA. Mr. Dissanayake however accepted the fact that even the Commissioner had called for the amendments to the local government elections bill. He said these could be discussed in Parliament but until then elections could be held under the existing PR system.
Local Government Minister Faizer Mustapha said there was no legal provision to hold the elections when thousands of petitions had been received with regard to de-limitation of the wards.
MP Vasudeva Nanayakkara who joined in the cross-talk said elections should be held for the local bodies with no de-limitation issues.
It was finally decided that parties should have a dialogue on this matter and decide on the election. (YP)