---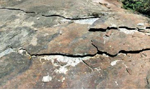 The famous Elephant Rock, or Ethagala, Kurunegala Town, has developed cracks at two locations. Each crack is said to be about 50 feet in length.
City vendors said they had heard a sound like an explosion from the rock. The rock had not developed cracks in the past despite intense heat.
National Building Research Organisation, Director, R.M.S. Bandara said the searing heat in the area might have caused the large cracks -- which were about two feet deep. He said some small pieces of stone had been found on the rock some years ago.
The pieces of stone were taken by him for further testing.(Pushpakumara Jayaratne)