---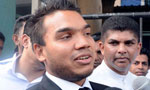 MP Namal Rajapaksa said today that the IGP should conduct an investigation to find out how police officers with outstanding cases against them were recruited to the FCID.
He said he had the names of the police officers in the FCID who had cases and corruption charges against them.
"The police officer who arrested me recently was out on bail in a murder case. I filed a case against the FCID demanding compensation. I will file more cases. This is just the beginning. We still have faith in the judiciary," he said.
Mr. Rajapaksa asked why police officers with criminal charges against them were assigned to question politicians.
"The government is doing things contrary to the principles of good governance. Murders are rampant. The underworld has raised its head," he said.
He said people neither respect nor fear the police and the judiciary as they had been politicized.
He said people were losing faith in the judiciary and the economy was collapsing. (Ajith Siriwardana)