---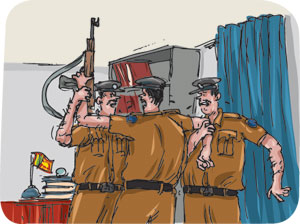 Chaos reigned at the Maragahahena Police Station on Tuesday (26) when a angry Police Constable (PC) burst into the office of his superior with his official weapon in hand shouting filth, police sources revealed.
However other police officers on duty came in to the OIC's room to help to bring the situation under control. They were able to wrestle the weapon from the grasp of the enraged PC.
The trouble began at about 6.30 p.m when the PC entered the OIC's office and let off some steam before leaving the police station on his motorcycle.
The PC, who had served in the traffic unit earlier, was later transferred due to a disciplinary matter. Since then he had not been on good terms with the OIC, a fact that he did not try to hide from his colleagues.
After the OIC I.P. Chandana Vidanage had been compelled to report his bad behaviour to ASP G.J. Nandana which had led to the PC losing his cool and storming into his superior's room to confront him. Apparently at the time the incident took place several civilians too were present.
There was no sign of the PC who had taken off in a huff as of yesterday(27), a senior police officer said. (Bimal Shyaman Jayasinghe)