---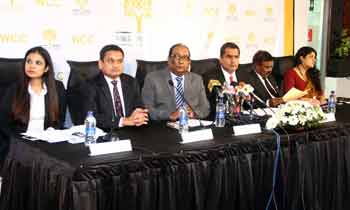 Al Aman Group's World Capital Centre (WCC), which gained notoriety this month for its questionable corporate information after entering into a US $ 2.4 billion Board of Investment (BOI) project, failed to establish its bona fides yesterday at a media conference.
State media this month exposed the firm for publishing suspicious credentials, corporate information and architectural plans on its website.
"I can understand. Yeah, if it is wrong, I have to admit. That's why now we have downed the websites," WCC Deputy Chairman Dr. Senaka De Silva said, but then added 'we have not lied'.
The company website is currently offline for 'maintenance'.
Dr. De Silva also admitted commenting to the media that the project was worth US $ 1.2 billion, although he said that this was due to him speaking offhand while he was driving.
While offering journalists a look at its brochure for what WCC claims will be the fifth tallest building in the world, the company in addition could only furnish its certificate of incorporation and the BOI agreement.
Dr. De Silva claimed that while the firm has proper book keeping and documentation, they were not available at that time, despite the conference being held at the firm's head office.
The company officials presented a broken front when attempting to explain where its parent company was from.
WCC Attorney S.P. Sriskantha and WCC Senior Deputy Chairman Vivek Anandarajah insisted that WCC's parent, Al Aman Group, was a foreign company, and that they had no clue about any other details of the company.
"Al Aman is registered in Sri Lanka," Dr. De Silva said later, puzzling those in attendance.
WCC's claims of having an international reputation and footprints in the UK, Malaysia, Dubai and the Maldives were also brought to question, when Dr. De Silva admitted that while the firm has companies set up in these countries, none had started any operations.
"You can't say that we have done nothing," he retorted to a question, but later added, "We haven't started yet. No project".
Anandarajah said that it is the prerogative of a company to start its businesses when the time is ideal and that WCC is waiting for such time.
However, he said that many international financial institutions are showing interest in funding WCC's first property in Sri Lanka, even though one financial institute has already pledged to fund the full US $ 2.4 billion. He said that WCC will look to diversify its funding.
"And also the staggered funding for five years, we will go with more than one funder for specific reasons to cut down the costs. All are from abroad and they're from many different countries, the USA, Switzerland. This company is globally known and that is how these international investors have agreed to fund," he said.
While earlier stating that all funding for WCC will come from foreign sources, who will be issued shares in WCC once the project is complete, Dr. De Silva later said that anyone, including the journalists could invest in the project and that investments could take place in rupees.
Sriskantha said that the latter was allowed under the BOI contract.
Despite numerous attempts to get WCC to furnish its funding sources, the officials remained secretive.
"These are information that we don't have to disclose. This is our confidential information. This is our business enterprise. As I said previously, we're in discussions with other funders as well because they're coming up with competitive offers," Anandarajah said.
He asked the journalists to ask questions relevant to WCC's Colombo property development, instead of asking about WCC's past or about its management, which are irrelevant information.
"We are talking about WCC in Colombo, so let's concentrate on that," he said.
The project is proposed to have 117 floors, 1,200 residential units, 3,000 retail outlets, 2,000 hotel rooms in a 'seven-star' hotel with gold-plated presidential suites, the country's first Michelin-starred restaurant and 20 swimming pools, to name a few of its many features.
Anandarajah said that WCC will construct the entire project even if one pre-sale is not made, since the building will be fully funded prior to construction.
According to the BOI agreement, WCC has to bring in US $ 200 million in funding before end-December 2017. Anandarajah said that drawings for the project are currently being done and that funds will be brought about two months prior to starting construction.
However, he said that the firm has yet to finalize a land to construct the project, among three shortlisted properties.
WCC Director Dr. Arosha Fernando said that WCC will take advantage of the proposed Kra Canal in Thailand, which will make Sri Lanka the hub in South Asia, and that the WCC project is developed under this and the government's Megapolis project.
"The Port City will be completed in 2041. This is scheduled to be completed in 2023, so we have one up on the Port City. And this way we attract all the top business enterprises, financial centres, airlines, you name it, to this centre, which will have all the modern facilities which are required for a business," he said. (Chandeepa Wettasinghe)