---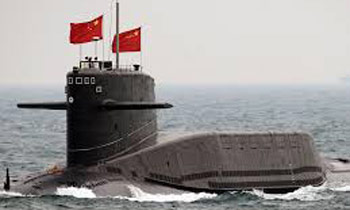 The Chinese Foreign Ministry has today parried questions on reports that Sri Lanka has rejected China's request for its submarine to dock at Colombo next week after a similar visit in 2014 triggered a strong protest from India, the PTI reported today.
"I have just read the relevant information. I suggest you raise it with the defence ministry for more details," Chinese Foreign Ministry spokesman Geng Shuang said when asked whether China has expressed dissatisfaction to Sri Lanka for refusing to let its submarines to dock in Colombo port.
The remarks came as China gets ready to host Prime Minister Ranil Wickremesinghe for the high-profile Silk Road summit on May 14-15.
"What I can tell you is that China and Sri Lanka enjoy traditional friendship. The two sides maintain sound cooperation in the fields of politics, economy, culture and military to military exchanges," Geng said.
According to PTI, China continues to pressure Sri Lanka for docking its submarines despite assertion by Sirisena government that it will not permit them due to concerns from India.
India has expressed concern over the previous Mahinda Rajapaksa's government for permitting a Chinese submarine in Colombo harbour in 2014.
China's request to dock its submarines coincided with the visit of Indian Prime Minister Narendra Modi to Colombo.
China says it wants docking facilities for its submarines to take part in the anti-piracy operations in the Gulf of Aden.
PM Wickremesinghe and Pakistan Prime Minister Nawaz Sharif are the only two top leaders from South Asia to attend the conference in which India is yet to confirm its participation owing to its objections to the USD 46 billion China Pakistan Economic Corridor (CPEC).
The other South Asian countries would be represented by either ministerial or official level delegation. China is yet to release the list of delegates participating in the event.
During his visit, PM Wickremesinghe is expected to finalise the Hambantota Port deal as well as a Chinese free trade zone in the area which were stalled by public protests.