---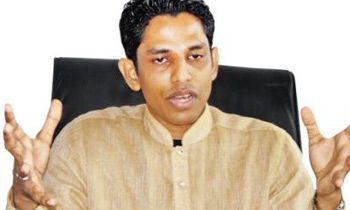 Gampaha District Parliamentarian Chathura Senaratne has requested President Maithripala Sirisena to remove Law and Order and Southern Development Minister Sagala Rathnayake and the Justice and Buddha Sasana Minister Wijeyadasa Rajapaksa from their portfolios.
Because of these two Ministers the Government, which came to power promising to punish those engaged in corruption and bribery, had failed to fulfill the people's aspirations during the past two and half year period during which it was in office.
"There are 82 investigations reports on Frauds and Corruption alleged to have taken place during the last Government but yet no investigations have been finalised properly," he said.
These circumstances have led to loss of confidence of people. MP Senaratne, along with several civil organisations had requested the President to remove these two Ministers from their portfolios.
They have demanded for the change of these portfolios in the recent Cabinet reshuffle but those changes were not made.
However, he said that the issue would be taken up with the President again at a suitable time.(Dayaseeli Liyanage)