---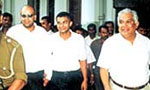 Chanuka Ratwatte and four others were arrested by the FCID this morning in connection with an alleged financial fraud of Rs. 4.6 billion at the Entrust Securities PLC.
The Central Bank took over Entrust Securities PLC this January and handed it over to the National Savings Bank as the management agent, to restructure the troubled primary dealer.
The Central Bank however did not directly admit uncovering of any fraudulent activities by the company/top management but said it was taken over to ensure the credibility of the government securities market.
Chanuka Ratwatte functioned as an Executive Director of Entrust Securities PLC.
Video by Buddhi