---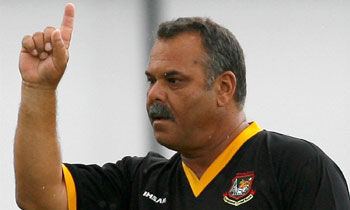 Former Sri Lanka coach Dav Whatmore said that care should be shown when criticizing the current crop of young national team cricketers, since the team was going through a rebuilding phase.
In an interview with the Daily Mirror, Whatmore said that criticism should be more objective and that more opportunities and support should be provided to young cricketers.
"Clearly they are in a rebuilding phase, and it's not easy to cover two great players that have left the game. (They've been) Without the services of a Lasith Malinga, who has been injured also for a lengthy period of time. It's not easy. It's a rebuilding phase but I can see obvious talent there, so we just need to be a little careful about the criticisms that come their way and we need to be more objective, keep providing more opportunities and support," Whatmore said.
The former coach, who helped Sri Lanka to a memorable World Cup win in 1996, was in the island as a consultant coach for the S. Thomas' College cricket team ahead of the 138th Battle of the Blues encounter against Royal College.
He also said he was open to an opportunity to coach at national level again in Sri Lanka, where he was born before moving to Australia, but that he was more keen to work at a developmental level.
"I'm about to swing into a more development side of things. I can never say never I guess, with full member countries or associate countries, but I think development now gives me a real kick; a buzz. So I'm looking to spend a bit more time in India with the Sri Ramachandra University where we're hoping to develop a number of camps and programmes there that will offer some real good advice to boys not just in Chennai or India but also in the region, and anywhere in the world," Whatmore said.
Video by Sanath Desmond
Read full interview: http://sports.dailymirror.lk/2017/02/27/whatmore-wants-better-pitches-to-harness-young-talent/