---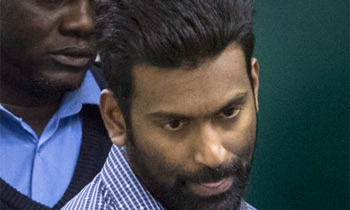 Canada's Immigration Department says a murder suspect who was set free after his trial exceeded the legal length limit is expected to be sent back to Sri Lanka in the next two weeks.
Ewa Staszewicz, a lawyer for the department, is confirming steps are being taken to obtain the necessary travel documents for Sivaloganathan Thanabalasingam.
Thanabalasingam, 31, told an Immigration and Refugee Board of Canada hearing today he doesn't believe he will be in danger in his home country and no longer needs to be protected as a refugee.
He was accused of murdering his wife in 2012 but the charges were stayed in April after the length of his legal proceedings were deemed to have violated a Supreme Court of Canada ruling that set time limits for trials to be completed.
He was detained by Canada Border Services Agency upon his release and a deportation order was issued against him.
Thanabalasingam, who came to Canada as a refugee, originally appealed the deportation order but later changed his mind and asked to be sent back to Sri Lanka.(CTV News)