---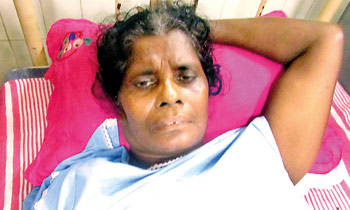 A woman who is being treated at the Karapitiya hospital after being rescued form a landslide site in Neluwa yesterday grieved over the death of the heroic Air Force officer who had saved the previous day.
She recalled how Sergeant Senaka Yaparathne of the Air Force had taken efforts under trying conditions to save her life.
"A son from the Air Force came in a helicopter and put a belt around my waist. Then he took me in a canoe- like container. But I did not know that he had fallen down, I came to know later that he had died when I went to the hospital," said A.D. Gnanawathi who was rescued by Sergent Yaparatne was succumbed to his injuries after he fell off the helicopter during a rescue operation.
Gnanawathi, was under medical treatment in Karapitiya Teaching hospital after sustaining severe injuries due to a landslide that took place close to the Duwili ella tea factory rest room in Neluwa.
Gnanawathi further said, "The officers came and informed us to leave the place when the landslide was about to occur. In the mean time, the rocks started coming down and we were not in a position to run. We were stuck in the front room. Those officers came and got us out but they could not take us out. We waited till dawn despite the rain. My two legs had got stuck in the concrete blocks. Therefore, they could not take us out"
" In the morning, a helicopter came and they saved me. But I did not know that the son, who rescued me had fallen down and died when I was in hospital. I can't bear this incident.," she lamented. (Sumathipala Diyagahage and D.G.Sugathpala)