---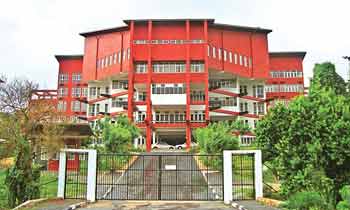 Cabinet will make several important decisions on the management of SAITM medical college when it meets on Tuesday, Health Minister Rajitha Senaratne told Parliament yesterday.
Minister Senaratne who was speaking during an adjournment debate in the House said he would submit a paper on the private medical college in Malabe on Tuesday.
"The government will not allow a single party to own the SAITM Medical School. In addition a management mechanism will be introduced to the institution under which it will be run by experts in various fields such as marketing specialists, business management specialists and specialists in the field of medicine," Dr. Senaratne said.
"The biggest issue with regard to the medical profession in Sri Lanka today is there is no specific standard to it. I have already embarked on introducing a standard for it and legislation is being prepared by the Legal Draftsman," he added.
The Minister said several foreign universities including the Monash University and Manipal University might start up medical colleges in Sri Lanka in the future.
"One must move along with the changing world just like the socialist countries which had allowed private sector medical colleges. Come up with realistic criticism against the government instead just uttering things," he told the members of the opposition benches.
Joint Opposition Parliamentary Group Leader Dinesh Gunawardene said the government should not turn the other way at a time the SAITM had become a major issue. "Nearly 8000 university students are carrying out a continuous Sathyagraha asking the government to nationalize SAITM. Even late President J R Jayewardene who is one of the most autocratic leaders in the country became flexible and nationalized the Ragama Private Medical College after realizing his mistake. Why can't the present government do the same?" he questioned.
Responding to an allegation made by the MPs in the government benches that it was him who presented the gazette notification to set up SAITM in 2009, Mr Gunawardene said the gazette has been signed by S B Dissanayake who was the Minister of Higher Education at that time. "SAITM is a brainchild of your minister" he told the members of the government side who was heckling him at that time". (Yohan Perera and Ajith Siriwardana)