---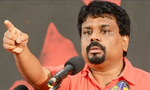 The Janatha Vimukthi Peramuna (JVP) yesterday said parliamentary Committee on Public Enterprises (COPE) should start a probe on the controversial coal power purchase deal which is alleged to have cost the government Rs 1.8 billion.
JVP Leader Anura Kumara Dissanayake told a media briefing that COPE should begin a probe and summon the Ceylon Electricity Board (CEB) officials before the committee.
Mr. Dissanayake said COPE could make some impact on penalising those who are responsible for the fraud if a probe is conducted. "COPE could conduct a probe and refer the matter to the Cabinet for action and can make some impact on pressurising the government to take action against those who are responsible if a fraud had taken place," he said.
He said appointing special committees would not make any sense. "If there were any allegations against any one during the previous regime, former President used to gather all the files while the present government is appointing committees. Gathering files was Rajapaksa's way of handing corruption and appointing committees is the present government's way of handing it. None of these two methods will help nab the corrupt," he added.
Further, he said the committee that had been appointed by the government will not do any good as some of the members of it are involved in the deal.
Meanwhile, the JVP Leader who referred to the arrest of UPFA MP Namal Rajapaksa said it is essential to carry out a proper probe on the deal between the Krrish group and Mr. Rajapaksa as there is no reason for the company to credit cash on the MP's account. Besides, he said Sri Lanka Rugby Foodball Union head had told the FCID yesterday that the fund given by Krrish Group to the union was given back to MP Rajapaksa. "A proper investigation has to be carried out as that's what the Sri Lankan people want," Mr Dissanayake added.
Quote: If there were any allegations against any one during the previous regime, former President used to gather all the files while the present government is appointing committees(Yohan Perera)
Video by Danushka