---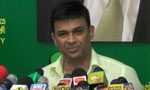 Raids would be conducted islandwide on corrupt officials and malpractices in Government Departments, State Committees, Banks, and State Boards, including all Government institutions soon, Social Empowerment and Welfare Deputy Minister Ranjan Ramanayake said.
The Committee On Public Enterprises (COPE) would conduct the investigations, Ramanayake said while addressing a media briefing today.
He said that no reports were published by the previous COPE Committees.
"With the support of the Yahapalana Government, the United National Front (UNF) and with the support of the other collective parties, we hope to conduct investigations in the near future," the Minister said.
"When we discussed the COPE committee, the question of whom the Committee could not question or investigate also cropped up.
"We have the authority to question even the Central Bank Governor. We have the authority to summon Ministers as well," he said.
Central Bank Governor Arjuna Mahendran was questioned today.
"Now the COPE has the authority to influence decisions taken by the Cabinet, a Minister or Ministries. "Former Economic Development Minister Basil Rajapaksa was the first Cabinet Minister to be arrested due to COPE investigation," he said.
"The people, who involved in frauds and malpractices in the previous Government, have got afraid to the COPE Committee more than the FCID," he said.
"Pivithuru Hela Urumaya (PHU) General Secretary Udaya Gammanpila and the former President Mahinda Rajapaksa are saying that the present Government is trying take revenge by framing false charges," he said.
"If you have guts, please come forward to a media panel and say that the Judiciary, the law enforcement and the Executive in the country are wrong.
"You will be getting the same treatment that Bodu Bala Sena (BBS) General Secretary Ven. Galagodaaththe Gnanasara Thera received. The Law will do the needful. If it is about revenge, I expect you to express your views at media briefings," the Minister added. (Chaturanga Pradeep)
Video by Chaturanga Pradeep