---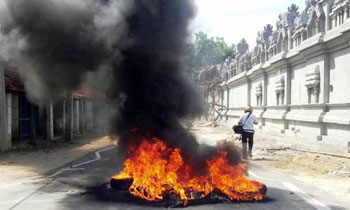 Burning of tyres on the road and pelting stones at the Special Task Force (STF) were reported for the second day in the Point-Pedro area in Jaffna yesterday, in connection with an incident in which an individual was killed when an illegal sand transporting vehicle was shot at by the Police.
They said that burning of tryres was reported from several areas in the Manalkadu area. In another incident, Special Task Force jeep was came under a stone attack by an unknown group.
A Sub Inspector and a Police Constable, attached to the Point Pedro Police Station were arrested and remanded till July 24 by the Pont Pedro Magistrate Court yesterday.
25-year-old Yogarasa Dinesh, a resident of Nelliadi was killed in the shooting.
Police said SI Shiwarasa Sanjeewa and PC Mohammad Mubarak were suspended following the incident.