---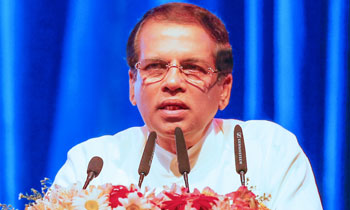 President Maithripala Sirisena today stressed the need to build a stronger economy, a balanced legal system and restore peace among the various communities living in Sri Lanka and resolve global issues through the Buddha Dhamma.
The President said this when addressing the UN International Vesak Day celebrations in Colombo last morning with the participation of Indian Prime Minister Narendra Modi as the chief guest.
"The message on the arrival of the Indian Premier in Sri Lanka and its objectives has been known to the world today through the International Vesak Day celebrations. The declaration of the International Vesak Day under the guidance of former president Chandrika Kumaratunga and efforts of our former Foreign Minister the late Lakshman Kadirgamar will help the world to understand its significance. Especially it will pave the way for non Buddhists to learn about Theravada Buddhism and about the Buddha. Buddhism is known as a way of calming the minds of Western politicians. This will be done by enhancing the knowledge of Buddhism among the Western Philosophers. As such the International Vesak Day is important for the whole world. Let us strive today to bring peace to the world, to resolve social uphevals and when it comes to our own nation lets us strive to bring peace among various ethnic groups and build a strong economy based and a better legal system based on the Buddha Dhamma," the President said. "We all know that Buddhism has solutions to problems confronting Sri Lankans and those outside be it political, cultural or social. The Buddha taught that a person is judged by the way he lives and the character he or she develops. One cannot measure the guidance given by Buddhism to resolve issues, to make a person a just being and to bring the human qualities of a person to light."
The President said the historical relationship between Sri Lanka and India was based on Buddhist principles.
"This relationship which is associated with Buddhism has a long history. The Indian Prime Minister is here with us today with a Vesak message based on the birth enlightenment and the passing away of the Buddha. When we step into the future we can see the transformation of Buddhism by the Emperor Asoka, the arrival of Arahath Mahinda and Sangamita Therani. The Indian Premier has come with the same message today. Therefore I thank him for visiting Sri Lanka with the message of Buddhism," he said.
Prime Minister Ranil Wickremeisnghe said the task before the UN Vesak conference is to deliberate on how Buddhist teaching can be applied to today's world and to resolve issues.
"Today the global arms buildup has led to arsenals including weapons of mass destruction. These are available to a few countries, but very soon they may be in the hands of non-state actors. Consequently sustainable world peace is not only imperative but a pre-requisite to the existence of life in the planet. The task before you is to deliberate on how Buddhist teaching can be applied to today's world. When degenerate politics and selfish deeds have resulted in glaring inequalities between the rich and the poor, between the North and the South, between the powerful and the powerless, Buddhism shows a moderate path and the need to consolidate social justice," the Prime Minister said. (Yohan Perera)