---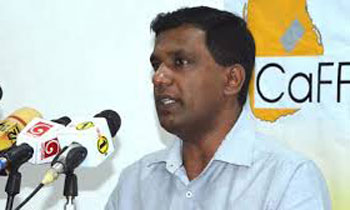 Referring to Prime Minister Ranil Wickremesinghe's statement that it was only proper for MP Ravi Karunanayake to step down from his post as the UNP's assistant leader, Campaign for Free and Fair Elections (CaFFE) Executive Director Keerthi Tennakoon today said the major bond scam miscreants had used Mr. Karunanayake as a scapegoat.
Speaking with the Daily Mirror, Mr. Tennakoon said the Tilak Marapana-committee which was appointed to look into whether any UNPer was involved in the scam, had also recommended that Mr. Karunanayake should step down from his post as the assistant leader of the party and refrain from national political activities on behalf of the party.
"Although it is evident that the Presidential Commission of Inquiry (PCoI) report has revealed that Ravi was answerable to the allegation that the Aloysius Family and their Walt and Rowe Company had paid the rent for the penthouse apartment occupied by Mr. Karunanayake, his role in the bond scam was minute. We are not trying to wash Ravi's clothes. What we are pointing out is that the major bond scam offenders including the PM are attempting to use Ravi to escape from the allegations levelled against them," Mr. Tennakoon said.
He claimed that the Prime Minister had carried out a shrewd plan to rob the Central Bank by appointing Arjuna Mahendran as the CB Governor and the whole exercise culminated in the plunder of public funds. (Sheain Fernandopulle)