---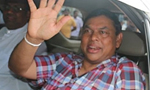 Former economic development minister Basil Rajapaksa, who was arrested by the Financial Crimes Investigation Division (FCID) on money laundering charges, was released on bail by Pugoda Magistrate B.A. Ruwanpathirana today.
He was released on a cash bail of Rs.100, 000 with two sureties of Rs.2 million each.
Mr. Rajapaksa's passport was also impounded by the Court.