---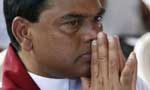 Former economic development minister Basil Rajapaksa arrived at the Presidential Commission of Inquiry to Investigate and Inquire into Serious Acts of Fraud, Corruption and Abuse of Power, State Resources and Privileges (PRECIFAC) a short while ago, to give a statement over the alleged misappropriation of funds belonging to the Economic Development Ministry.
A spokesman for the Commission said investigations had revealed that Mr. Rajapaksa had paid Rs. 150.5 million from the Gama Neguma project to the Sri Lanka Air Force for using its planes for his private trips.
He said Mr. Rajapaksa had also allegedly employed 150 personnel of the navy and the army for his personal work from 10.1.2010 to 10.1.2015 and misused Rs. 260.4 million of government funds to pay their salaries.
The spokesman said Mr. Rajapaksa had used 14 vehicles in addition to his three official vehicles, and paid Rs. 20 million out of government funds for fuel for the extra vehicles.
Mr. Rajapaksa was questioned by the PRECIFAC on several previous occasions on the same subjects. (Ajith Siriwardana)