---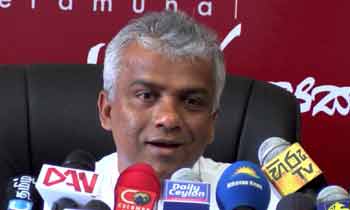 Bodu Bala Sena (BBS) Organisation today strongly condemned questioning of journalists who covered the press briefings by the Organised Crimes Prevention Division (OCPD), BBS CEO Dilantha Withanage said.
He said questioning of journalists did not take place during other Police investigations and it was clear that Police were purposely targeting the BBS.
Meanwhile, he said as an organisation BBS would fight for the rights of journalists if they had to face any issue.
Addressing media Sinhala Ravaya General Secretary Magalkande Sudaththa Thera said journalists had been questioned as to why they had always covered BBS press conferences.
He said that the issue had to be brought to broad discussion by the media institutions and media associations.
"It is a responsibility of a journalist to report incidents to the country and he should give what the people need to know," the Thera said. (Chaturanga Pradeep)
Video by Janaka