---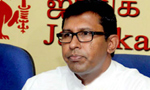 The Jathika Hela Urumaya (JHU) yesterday alleged that the assault on Sri Lanka's High Commissioner Ibrahim Ansar at Kuala Lumpur on Sunday could be a conspiracy to divert public attention from the Sri Lanka Freedom Party (SLFP) 65th anniversary celebrations.
JHU National Organiser Nishantha Sri Warnasinghe told the media that the envoy was attacked while walking to the airport unaccompanied by any of his personal security officers.
"The High Commissioner is provided with security officers who should have accompanied him especially because of the tense situation during the visit of former president Mahinda Rajapaksa to Malaysia on Thursday. It is surprising as to why he was roaming around at the airport premises all alone," he said.

Mr. Warnasinghe said attention was diverted to the assault on the High Commissioner from the SLFP's 65th anniversary on Sunday.
"That is why we are describing it as a possible conspiracy," he said and added that the JHU condemned the assault on Mr. Ansar and the protests against Mr. Rajapaksa.
Mr. Warnasinghe said Malaysia's image would not be tarnished by this incident which has been interpreted differently by different people.
"We must not forget that during the war, Malaysia helped Sri Lanka in several ways," he said and added that the JHU would mark its 13th anniversary on September 24 at the Sugathadasa Stadium under the theme 'Sawoma Dinana Maha Ratak'.
Mr. Warnasinghe said the JHU had intervened at crucial moments even though the SLFP and the UNP were much older than the JHU. (Kalathma Jayawardhane)