---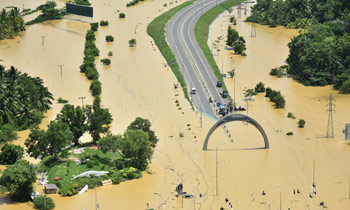 Floods in most of the areas were receding as of today giving way to the authorities to focus on long term issues, whilst the death toll remained at 212 with 79 persons were still reported missing.
One of the freshly noticed long-term effect is the effect the floods had on the low grown tea plantations.
"Many of the tea bushes in the Galle, Kalutara and Ratnapura Districts, which were affected by the floods are covered with mud to date," a Minister said.
He highlighted that it might take few months to get the tea bushes restored.
Medical experts have already warned of epidemics such as dengue and diarrhea in the flood-hit areas.
Meanwhile, the death toll stood at 212, while 79 people were still missing. The number of camps where displaced persons were housed at had been reduced to 226. 24, 820 persons belonging to 7, 004 families were still housed in these camps.
The Department of Meteorology predicted spells of showers in the Western, Sabaragamuwa, Southern, Central and North Western Provinces.
Winds which may travel at 50kmph were expected as well.
Sea areas around the country were expected to be rough. (Yohan Perera)