---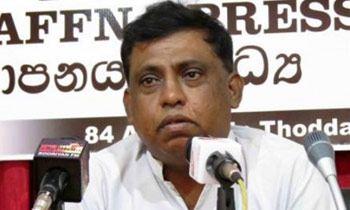 All military personnel, who had been deployed for security in the Northern Province, should be withdrawn within the next six months, Northern Provincial Council member M.K. Sivajilingam said yesterday.
He said that soldiers who can be accommodated in 600-700 acres of land were enough for security in the region, he said.
While addressing media at Jaffna he claimed that about 4,000 acres of land in Valikamam in the Northern Province was still under Sri Lanka Army.
"They keep this land area forcibly," he said.
"About 600 to 700 acres of land area is more than enough for Army and no need of that much of army personnel in the North. Therefore, the Army should be withdrawn with in the next six months," Sivajilingam said. (Romesh Madushanka)