---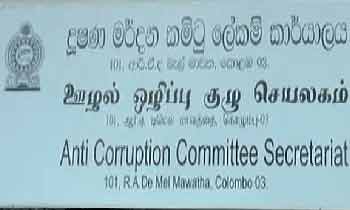 The functions of the Anti-Corruption Committee Secretariat (ACCS), which determines the nature of the complaints of major corruption cases to be probed, will cease to exist from tomorrow (1) as no Cabinet nod had been received to date validating its existence, Daily Mirror learns.
The commission was established in 2015 after the 'Yahapalana Government' came into being, to observe the public complaints on massive frauds and corruption cases of the previous regime and to refer the true complaints to its chief probing tools, the Police Financial Crimes Investigation Division (FCID) and the Commission to Investigation Allegations of Bribery or Corruption (CIABOC).
Cabinet approval for the commission was received on February 11, 2015. The ACCS was established on February 19, 2015 and was housed in an office complex next to Temple Trees off Gangaramaya.
Since then, the existence of the commission had been renewed every six months after getting special Cabinet approval five consecutive times, the last time being January 1, 2017.
However, no Cabinet approval was received for the extension of the functions of the ACCS beyond June 30 even during the last sitting of Cabinet held on Tuesday (27), the paper learns.
When contacted a senior official of the commission told Daily Mirror that they had started packing their bags since there was no response either from the Cabinet or the Prime Minister's Office.
The officials had written to the Prime Minister's Secretary three days ago inquiring about the fate of the commission. They had made a verbal inquiry too but received no response. They had written asking the authorities to send their representatives to take over the office material since their staff would not report to work from
July 1 as their term of office had expired.
When contacted, Secretary to the Prime Minister Saman Ekanayake said last evening that he had no knowledge of the prevailing situation and that the fate of the ACCS was in the hands of the commission heads.
The ACCS comprises of a Director, four Deputy Directors representing various state departments as well as a staff of about 25 professionals including officers from the State Intelligence Service. (Kurulu Koojana Kariyakarawana)