---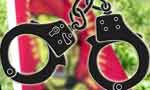 Following the arrest of former Batticaloa LTTE leader Ram on Sunday, the Terrorist Investigation Division (TID) yesterday arrested another ex -LTTE leader at Koppai in Jaffna.
Details of the man had been revealed to the TID during the interrogation of Ram, sources said.
Sources further said that the suspect arrested yesterday had been identified as Sivamoorthi Kanapathipillai alias Nagulan who had been a commander of the Charles Anthony Brigade, an elite brigade of the LTTE during its heyday .
Though he had been a high ranking LTTE cadre he had neither been arrested by the security forces nor had surrendered to them after the decimation of the LTTE leadership in 2009.
Sources further said that Nagulan had entered into the army held areas along with tens of thousands of people who had left the LTTE held Puthumatalan area during the last days of the war and had not been identified by the security forces till yesterday.
After staying in welfare camps for some time he had settled in Koppai and had married there. The couple has one child. (N.Parameswaran)