---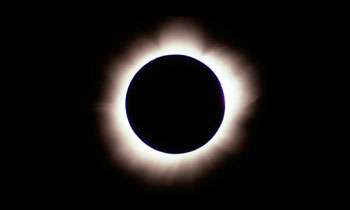 A total annular solar eclipse will be visible from Sri Lanka on December 26, 2019, coinciding with the 15th anniversary of the 2004 tsunami that devastated Sri Lanka's coastal belt.
Professor Chandana Jayaratne of the Department of Physics at Colombo University told Daily Mirror that the eclipse would result in a part of Sri Lanka from Jaffna to Trincomalee experiencing total darkness while the rest of the country would be in partial darkness.
He said a large number of scientists from countries such as the US are expected to visit Sri Lanka to view the eclipse.
An annular solar eclipse occurs when the Moon's apparent diameter is smaller than the Sun's, blocking most of the Sun's light and causing the Sun to look like an annulus (ring). An annular eclipse appears as a partial eclipse over a region of the Earth thousands of kilometres wide. The total annular eclipse will be visible in Saudi Arabia, Qatar, United Arab Emirates, Oman, southern India, Sri Lanka, Sumatra, Malaysia, Maldives, Indonesia, Singapore, parts of Borneo, other parts of Southeast Asia, some parts of Australia, and Guam according to NASA USA and other international astronomical institutions. (Yohan Perera)