---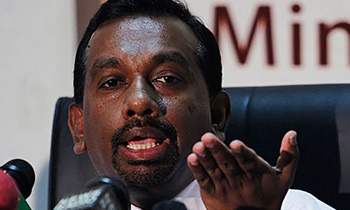 Joint Opposition MP Mahindananda Aluthgamage said yesterday the allegations he levelled against Former Finance Minister Ravi Karunanayake was being revealed before the Presidential Commission of Inquiry whereas Minister Karunanayake and the Prime Minister denied that the allegations were false at that time.
"When I revealed in parliament that Arjun Aloysius' company had paid the rental of Ravi Karunanayake's house, he challenged that I would be taken to courts for making false allegations. The Prime Minister said I would be taken before the privilege committee. But what I revealed is being proved before the Commission today,' he said.
He said when they complained to the Bribery Commission and the CID with regard to the Central Bank Bond scam, they did not investigate it and added that it was praise worthy that the President appointed a commission on the matter later on.
He said Minister Karunanayake should have resigned by now for being involved in the scam.
Mr. Aluthgamage said high rankers of the government would also be summoned before the commission very shortly in connection with the bond scam.(Ajith Siriwardana and Yohan Perera)