---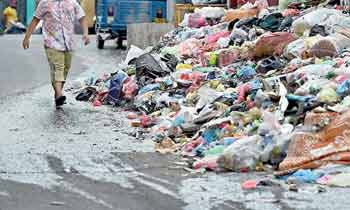 About 1,200 individuals had been arrested for dumping garbage in a haphazard manner in the Western Province, the Police said today.
Releasing a statement the Police Department said the individuals were arrested between June 18 and 27.
The highest numbers of individuals were arrested from Gampaha, while Kalutara reported the lowest number of arrests.
"250 were arrested from Gampaha, 215 from Central Colombo, 169 from Colombo North, 153 from Kelaniya, 140 from Nugegoda, 85 from Panadura, 72 from Colombo South, 65 from Negombo, 27 from Mount Lavinia and 4 from Kalutara," a Spokesman for the Police said.
The raids were conducted by the Police Department in collaboration with the Sri Lanka Army.
Meanwhile, speaking to the Daily Mirror previously Colombo Municipality Commissioner V. K. A. Anura said the arrests would continue in the city until individuals stopped dumping garbage in a haphazard manner in the city.
The operation commenced on June 15, was aimed at reducing the 650 metric tons of garbage collected by the Colombo Municipality within its limits, he said.
During a media conference, Anura stated that Municipality workers had cleared out at least 200 metric tons of garbage dumped haphazardly on the streets each day with most of the said waste generated from large production facilities.
"We used to collect about 1,000 metric tons of garbage before we started to segregate and now we collect much less in Colombo. This is because people are more conscious of the waste they generate," he said.
Last week, Minister of Provincial Councils Faiszer Musthapha said mobile monitoring teams deployed by the Ministry had identified 2, 336 persons, while dumping garbage on roads in a haphazard manner.
He also said steps would be taken to set up street cameras to identify persons who dump garbage on the roadside and in public places.