---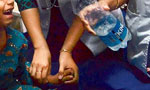 At least nineteen students at the Baduraliya Maliyadewa Primary School, Kalutara were hospitalised due to alleged food poisoning, police said.
The nineteen students included 12 girls and 7 boys in 10 years of age had fallen sick and started vomiting and some students fainted after eating a meal provided at a ceremony held at school for new grade one admissions.
" The students were admitted to the Baduraliya Hospital with symptoms that indicated food poisoning. It is suspected that food items served in the ceremony held for new grade one admissions had been served to the children," police said.
However, those who were hospitalised were not in critical condition.
(Piyumi Fonseka)