---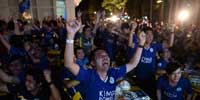 Thailand's health authorities have urged football fans to avoid getting overly excited while watching Euro 2016 lest those heart-stopping moments literally prove fatal.
The Public Halth Ministry published advice calling on fans to ward off heart attacks by making sure they get enough rest and avoid long binges of football-fuelled excitement.
"The ministry would like to advise all sport lovers -- teenagers, students, working people and the elderly -- to watch sensibly," Suwanchai Wattanayingcharoenchai, a ministry official, told reporters.
"Allocate appropriate time for watching and resting," he added.
The ministry urged those with diabetes and heart problems to make sure they continue to take medication. It said those who work hard, even the young, should also take care. (AFP)