---

The World Habitat Day is celebrated globally on the first Monday of October every year and this year it falls today (October 6). Its purpose is to reflect on the state of our towns and cities and on the basic right of all people to have adequate shelter. It is also intended to remind the world that we all have the power and the responsibility to shape the future of our cities and towns. World Habitat Day was established in 1985 by the United Nations General Assembly through Resolution 40/202 and was for the first time marked in 1986. Speaking on the importance of adequate housing in Sri Lanka, Otara Gunewardene, Goodwill Ambassador for Habitat for HumanitySri Lanka shared her views with the Daily Mirror.
Following are some excerpts of the interview:


Why is World Habitat Day important to Sri Lanka?
It is important that we improve the housing conditions of people living in Sri Lanka. They should be given adequate housing and better living conditions.
Therefore, through Habitat for Humanity, we conduct programmes to uplif
t the living conditions of these people throughout the year.
At different times we do projects in different places depending on the need of the people.

What is Habitat for Humanity Sri Lanka?
Habitat for Humanity Sri Lanka is an organization that provides simple, decent and affordable housing to people in need. They do projects countrywide and at present they are involved in constructing houses in the East.


People are more concerned about education, health and success these days. Why did you choose housing instead?
How a person lives and the conditions he or she lives in are very important. Many issues stem from the lack of adequate housing. Therefore, if this problem is addressed these issues too will be addressed. Education, health and success are important, but it is equally important that these people have a proper shelter to live in.


On a personal level, how has your experience been as a volunteer and a donor to Habitat for Humanity Sri Lanka (HFHSL)?
It has been quite rewarding to be involved with these activities. I've been an Ambassador both with Odel and personally as well. I joined Habitat for Humanity SL during the time of the tsunami which was also my first interaction with them. As a HR initiative it has been a tremendous success. At present I am involved in a project being done in Kalutara. I have really enjoyed working with them and I will continue to support them like I have done before.


How can corporate organizations join in to assist you in this programme?
They can contact Habitat and work according to requirements such as timeframe, budget and how the organization can contribute to make a difference. It doesn't require a lot of money. They can sponsor, donate or assist HFHSL as part of their C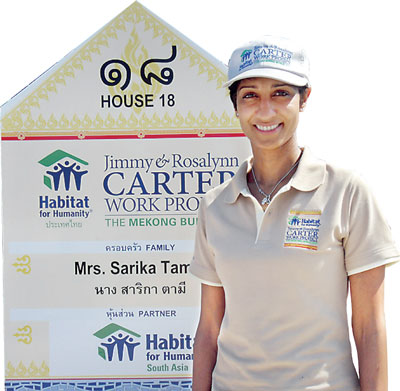 orporate Social Responsibility (CSR) projects. They can give money or garner the help of their staff in building houses. Therefore, by volunteering to build a house, the owner saves the money he has to otherwise spend on labour. As such even the smallest contribution can make a huge difference.




What is your message to the business community and corporate organizations on this World Habitat Day?
They should explore the different options that Habitat has to offer. I think every company has to allocate some funds under CSR. Therefore, if they can donate a certain percentage to the Habitat I think that money will never be a waste. Because after all they are helping someone build a home. This will in turn change the lives of many people who are in need of shelter and thus it will be quite rewarding.


The Inception of Habitat for Humanity International
Habitat for Humanity was a concept that was born in the USA at Koinonia Farm to promote racial reconciliation. It was founded in 1942 by Clarence Jordan, a farmer and biblical scholar.

Through the work of Habitat, hundreds of thousands of low-income families have found new hope in the form of affordable housing. Companies, churches, community groups, governments and others have joined together to successfully tackle a significant social problem – safe, decent, affordable housing for all.
Today, Habitat builds, rehabilitates and repairs homes of millions of people in thousands of communities in North America, Latin America and the Caribbean, Africa, Eastern and Western Europe, and throughout the Asia-Pacific region.


Need in Sri Lanka
While having a decent home is a basic human right, many Sri Lankans still live below the poverty line. Entire families are rammed into a room with tin sheets as walls, no electricity, leaking roofs; little or no sanitation and no privacy are a common sight in many poverty-stricken areas of the country. This in turn will negatively impact education, relationships and health.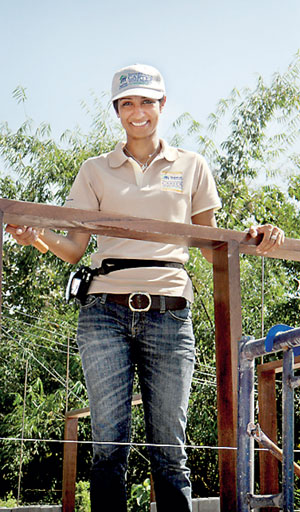 According to recent government figures, the country's poverty rate declined to 8.9 percent in 2009/10 from 15.2 percent in 2006/07. But food security and malnutrition are areas of concern, according to a joint survey conducted by the World Food Programme, UNICEF and the Sri Lankan government.

Sri Lanka has a highly rural population with only one-in-five people living in towns and cities. Rural dwellers frequently lack access to basic services such as toilets, drinking water and electricity. The rural poor often live in makeshift shacks constructed with mud and discarded materials that offer scant protection from the weather and surrounding wildlife. Shelter conditions for urban dwellers are no better. The influx of rural workers seeking jobs in the capital city of Colombo has contributed to the growth of slums.

However, adequate shelter is a critical foundation for breaking the cycle of poverty and good housing attracts economic investment and development.


Habitat for Humanity's role in Sri Lanka
HFHSL works with families who live in unfit or inadequate housing and help them to live in better conditions. The organization hosts programmes whereby individuals or groups can sponsor a home, project, a component or make a one off or monthly donation.
HFHSL also has the infrastructure to accommodate long-lasting and mutually-beneficial relationships with corporate partners. HFHSL offers a more engaging method of contributing through its volunteer programme. If a 12-member team works 32 hours a week it can provide the unskilled labour required to completean entire house. This would decrease building costs by 5-10%. HFHSL also has a disaster response programme which assists families who are affected by natural or man-made disasters. One of its largest projects is 'The Indian Housing Project', which is conducted in partnership with the Sri Lankan Government andfunded by the Indian Government to construct 4,000 houses in the East for internally displaced persons (IDPs).




If you wish to contribute to this worthy cause, please contact:




Habitat for Humanity Sri Lanka




Address: No. 22/5, Station Road, Dehiwela.




Fax:+94(0)-114202788