---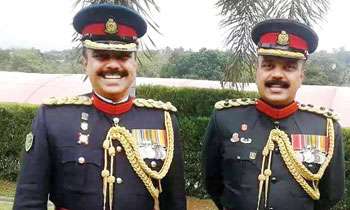 A historic event occurred in the Sri Lanka Army on Thursday (6) as the Seneviratne brothers, who are twins and joined the Army on a same day, were promoted to the rank of Major General, again on the same day.
The twins, Majors General Puraka and Jayantha Seneviratne, had held different positions in the military during their career
According to Army Media spokesman Brigadier Sumith Atapattu, this is the first time that twins were promoted to the post of major general on the same date after being recruited to the army on the same date.
Jayantha and Puraka who were born on September 6, 1965 at the Ratnapura General Hospital to Janaseeha Seneviratne and Leela Seneviratne.
They had been a part of Army operations ' Balavegaya 1' and ' Vanni Wikrama' and had served in operation areas at the height of war, according to the army.
Army Commander Lieutenant General Mahesh Senanayake had recommended these two brothers for promotions to President Maithripala Sirisena. (Indika Ramanayake)