---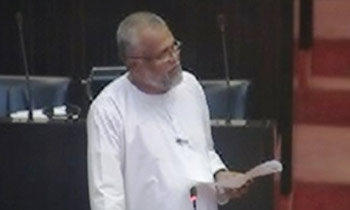 The Coca Cola factory proposed to be established in Sri Lanka would further reduce the water resources which are already diminishing as a result of the drought, Parliamentarian Douglas Devananda charged.
Mr. Devananda told Parliament that Coca Cola was planning to shift the largest manufacturing plant owned by it in South Asia, which was initially situated in India, to Sri Lanka.
He therefore cautioned the government stating that the company has ran into trouble in India in addition to using up much of the water resources in the sub-continent.
The MP noted that at present Coca Cola was facing widespread criticism in India.
"There are around 57 Coca Cola plants currently operating in India and they too have come under fire from the Indian legal system for violating the stipulated water usage limits. Furthermore, there is a severe drought affecting Indians and Indian courts have banned the company from utilizing water from the Thamirabarani River," he said.
"Sri Lanka too is facing a serious drought. Several districts have no water. When such conditions are prevailing in Sri Lanka, Coca Cola want to use our water resources to meet the market demands of their largest consumer market in the region: India. How can this be allowed?" he questioned. (Yohan Perera, Ajith Siriwardana)