---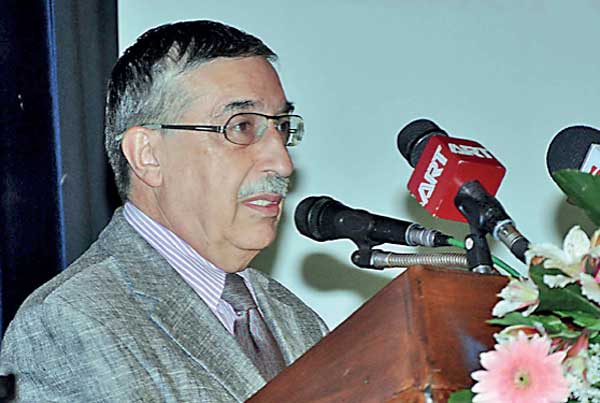 Ambassador Alexander Karchava
Pic by Nisal Baduge
By Zahara Zuhair
Ambassador of the Russian Federation to Sri Lanka, Alexander Karchava, said the postponement of the proposed ban on importation of chrysotile asbestos till 2024 does not resolve the problem, and from their side they are ready to bring in a group of experts to Sri Lanka to educate the people on the safe use of chrysotile asbestos.

Chrysotile asbestos is exported from Russia to Sri Lanka for the production of roofing materials. It is widely used in the construction sector, especially in housing in the regions in need, mostly in Northern and Eastern provinces.

Considering the health and the good hygiene of the people in the country, last month, the Cabinet approved a proposal aimed at controlling the import and use of asbestos from January 2018 and to prohibit asbestos related products completely from January 2024 onwards.
The ambassador requested the members of the Sri Lanka-Russia Business Council to state their stance on the matter and use their influence to address this matter, which actually is not only in the interest of Russia, but also to protect the rights and profits of their countrymen.
The ambassador said he personally discussed the issue with President Maithripala Sirisena and Prime Minister Ranil Wickremesinghe. He said Wickremesinghe assigned Law and Order Minister Sagala Ratnayake to address the issue.
"I had a special meeting with the minister. This bore positive results. The ban is now shifted by seven years. Thanks to the goodwill of the Sri Lankan government, we managed to postpone the ban on the import of chrysotile asbestos until 2024," he told the 13th Annual General Meeting (AGM) of the Sri Lanka-Russia Business Council held last week in Colombo. Meanwhile the ambassador called on Sri Lankan businesses to step up their activities in Russia, as they looking forwards diversify market. "We are not only talking about seafood and tea companies, but also apparel, agricultural producers," he said.

Russia is traditionally one of the top importers of Sri Lankan teas. Tea has been the leading Sri Lankan export product, which amounts to 51 percent of total exports to Russian Federation.