---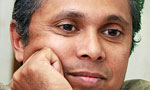 The former president of the Federation of University Teachers' Associations (FUTA), Dr Nirmal Ranjith Devasiri said yesterday that the government had no mandate to sign any trade agreement such as the Economic and Technology Cooperation Agreement (ECTA), and that its keenness to sign the agreement over the objections of the professionals was a dubious act.
Dr. Devasiri said so at a rally organised by the United Professionals' Movement, and held at Hyde Park, in opposition to ECTA.
"The government is keen to sign ECTA despite the continued objections of the professionals. This itself raises doubts even before we consider the content of the agreement," he said.
The Government Medical Officers' Association (GMOA) president Dr. Anuruddha Padeniya said the government was attempting to expand the Indo-Lanka trade agreement, which was restricted to goods, but which had been disadvantageous to the service sector as well.
He said the government was going against democratic principles and disregarding their just criticism of ECTA.
He said the GMOA had proposed five principles that should be adhered to when signing such an agreement. These included establishing a national policy, qualifying and quantifying the expected outcome and establishing a methodology for the security of the sectors exposed to the trade.
He said the government should study the terms of an agreement thoroughly before signing it. He said New Zealand had studied an international trade agreement for seven and half years before signing it. (Ajith Siriwardana)