---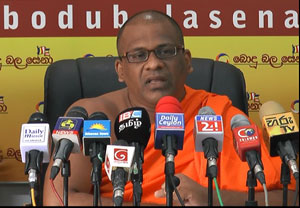 The Bodu Bala Sena (BBS) General Secretary Ven. Galagodaaththe Gnanasara Thera today charged that there was an ongoing conspiracy by the Tamil National Alliance (TNA) and several other personnel to chase out Sinhalese from their native lands in the North and East with the intention of re-merging the two provinces.
The Northern Province and the Eastern Province were merged into one contiguous Northeastern Province with the implementation of the 13th Amendment. Later in was again divided into two provinces.
"The initiative was launched from March 4. The Northern Provincial Council and the Tamil National Alliance (TNA) is backing this move to chase Sinhalese people away and preventing the resettlement of them," the Ven. Thera said.
"No support was given for the development of the Sinhalese Education Zones in Vavuniya and Weli Oya areas, and no appointments were made to the existing teacher vacancies," he said.
"No appointments had also been made to the State sectors in the Northern Province, while taking steps to transfer the existing State workers conspiringly," he charged.
"There is an ongoing process of resettling Tamils in lands which were taken from the Sinhalese people forcibly. The TNA had forcibly stopped building houses in Kokilai Sinhala fishing village. Kokilai, Sampath Nuwara and Weli Oya are ancient lands of the Sinhalese," Gnanasara Thera said.
The Ven. Thera was referring to the houses that were being rebuilt by the Government in these areas.
"There are about 325 fishing families, who are permanent residents of the Kokilai village without proper houses. The money given to reconstruct 65 houses that were given by late Ranasinghe Premadasa had been used to resettle Tamils in that village," the Thera said.
"A 50 acre block of the 'Kok Eliya' land , which was the only Sinhala village in Vavuniya had been bulldozed by a member of TNA (Sinnamon), who had been a leader of the LTTE pistol gang and taken steps to resettle Tamils in that village," he said.
"We ask President Maithripala Sirisena why the Government couldn't take any action against the TNA and other Tamil organisations. Do only Sinhalese have to be law abiding citizen of this country?" he said.
He also queried as to why the police could not take action against Sinnamon, who is out on bail, and had 16 charges against him. (Chaturanga Pradeep and Kalathma Jayawardhane)
Video by Chaturanga Pradeep