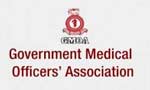 The Government Medical Officers' Association (GMOA), today, requested President Maithripala Sirisena to postpone the signing of the Indo-Sri Lanka Trade Agreement until a national policy on trade agreements was worked out.
In a letter to him, the GMOA said that trade agreements should be drafted while maintaining the country's identity and security, and that they should benefit the country and its citizens.
GMOA general secretary Dr. Nalinda Herath said the shortcomings in an agreement had to be resolved through international arbitration, and these procedures were technically and legally very complex and difficult for a country like Sri Lanka to deal with.
"Resolving the shortcomings of an agreement will consume a massive amount of money. This was evident during the arbitration regarding the hedging agreement. The massive loss caused by the hedging agreement will have to be borne by generations to come," he said at a media briefing yesterday.
He said that, therefore, they proposed that there should be a national policy on the formulation of trade agreements and that the Indo-Sri Lanka Trade Agreement should not be signed until a such a policy was formulated.
Dr. Herath said the proposed agreement would cause more harm to Sri Lanka than the existing Free Trade Agreement (FTA) between the two countries.
"The existing Indo-Sri Lanka FTA has not benefited Sri Lanka. Those who drafted this agreement have failed to pay attention to the needs and responsibilities of Sri Lanka and the burden is now upon its citizens," he said.
He said they were not convinced of the supposed advantages of the proposed agreement and that there was no transparency in the drafting of the agreement.
However, he thanked Minister Malik Samarawickrama for providing them with information regarding the proposed agreement.
(Lahiru Pothmulla)