Jacintha, who was adjudged as the best Foreign Domestic Worker in the country she was employed at, credits the success to her employer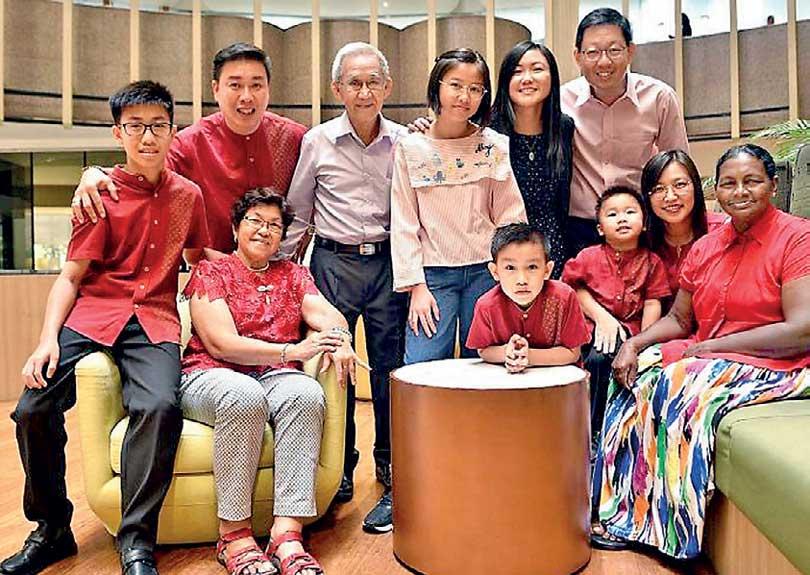 Jacintha (extreme right) with the Lam family
But later this family helped her to learn and converse in English

she knew she had to be patient and do her work in order to earn money

Every six months she was given a vacation and the family paid for the ticket

she said unlike in other countries Singaporeans have warm hearts

she didn't know that this family had nominated her and the money was deposited in her grandchildren's accounts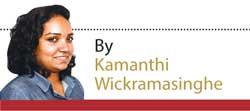 Many Sri Lankan women travel to foreign countries to seek employment as domestic aides and do similar blue-collar jobs to send money home. But oftentimes, many of them have unpleasant stories to relate. There have been instances when some were tortured and others returned in coffins. In such a backdrop, an acknowledgement hardly comes their way. However, Panambarage Jacintha's story is different to the rest where she not only worked for the same employer for 30 long years, but was also adjudged the Foreign Domestic Worker recently with a cash price worth S$ 2000 at the recently concluded Domestic Worker and Employer of the Year Award ceremony held in Singapore. The event was organised by the Association of Employment Agencies Singapore.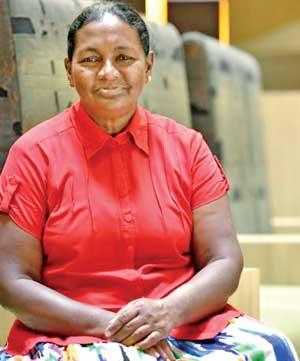 Q Tell us about yourself

I'm from Jayagama, a small township in Kurunegala District. Now I'm 58 and have been working with the Lam family for 30 long years. Initially I was worried about my decision, but today I feel proud of myself.

Q What made you opt for foreign employment?

I had trouble earning a living. My father died when I was very young and I worked on estates and earned a pittance which wasn't enough to raise my children. The only option was to apply for foreign employment. Then I went in search of an agency and needed Rs. 8000 to apply for the visa. I somehow managed to obtain it although I was in debt and managed to fly to Singapore. At the time I left my daughter was only three years old and my son was five. However my grandmother and my mother were there to look after them.

Q How was it like to be in a foreign country for the first time?

I was shocked. At the time I only knew to respond in Yes or No. But later this family helped me to learn and converse in English. From that moment on wards I realised that I had come to a safe place to work at. They never ill-treated me for my shortcomings.
In an exclusive interview with the

Daily mirror

Jacintha recalled the day she first attended work, the challenges she faced and how she feels

30 years later.

Q Tell us about your experience there.

I had to look after an elderly person. She had had a bad fall and was confined to a wheelchair. She was intolerable at times, but I knew I had to be patient and do my work in order to earn money and send it back home. When she passed away in 1995, I returned when my mother met with an accident. After that I once again faced many financial issues, but I didn't want to call this family again. But my instincts told me that I should give them a ring. Coincidentally they too had been looking for a maid to look after their daughter. Thereafter I returned to work at this house. Every six months I'm given a vacation and the family pays for the ticket. I have travelled to over 14 countries with the Lam family including Dubai, Malaysia, Thailand and Indonesia.

Q How did you feel when you won the award?

I was overwhelmed and shocked to the point that I needed a hand to get on to the stage! The excitement was indescribable. I didn't know that this family had nominated me and the money I received was deposited in my grandchildren's accounts. I stay in the 18th floor of an apartment complex where 50-60 other families also live. Once the word got around about my award they came to wish me. Unlike in other countries, people in Singapore have a warm heart.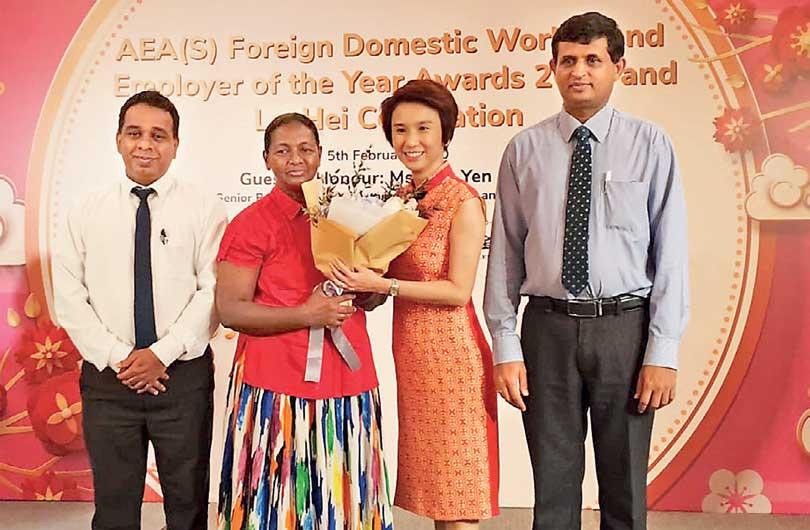 Jacintha receiving the award from Guest of Honour Ms. Low Yen Ling

Q Those seeking foreign employment face a lot of stigma. Some working in other countries have unpleasant experiences. What do you have to say about this disparity?

People come here to earn a living. Most of them are in debt and have many issues. So they have to cope up with challenges if they want to succeed. Nothing comes easy. They have to have the courage to sacrifice their time, stay in a foreign country and complete the tasks they are assigned. However, a greater part of my success story should be dedicated to my employer because for the past 30 years there has never been an instance where they treated me differently. It's like my house and they are very obliging. I do miss my home and children, but staying away from them hasn't been that challenging since I'm being well looked after in this house as well.

Q What is your message to those seeking foreign employment?

Save as much as you can. What I see is that when our girls earn money, they buy expensive phones etc. But they should know to save and send some money home. They are misled into doing unwanted things when they start earning. But that shouldn't be the case. They also should have patience and courage to be independent because they are in an unknown land. I'm blessed to have a kind hearted employer who looks after me well.