36-year-old lady tested positive on October 15
Another person from Rambukkana-Pinnawala quarantine centre, tested positive

Iriyagolla, Ambul-Ambe, Boraluwa, Werallagama, Alawatte and Kiriwallapitiya villages, locked down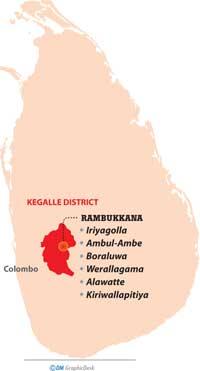 By Chaminda Wewatenna
Following the detection of two COVID -19 patients, six villages in the Rambukkana area were locked down, an official said. Director of Kegalle District Health Services Dr. Kumar Wickramasinghe said a woman, 36, tested positive for the disease on October 15. She was referred to the Kattankudy hospital for treatment.
Afterwards, another person from the Rambukkana-Pinnawala quarantine centre, tested positive after a PCR testing done at the Kegalle General Hospital. He was sent to the Iranamadu COVID -19 treatment centre.

The villages that were locked down are Iriyagolla, Ambul-Ambe, Boraluwa, Werallagama, Alawatte and Kiriwallapitiya. These villages are spread over three Grama Niladhari divisions.

Investigations are underway to trace those who had contact with this patient.