also banned re-exporting of garbage, processing of garbage or recourse recycling for re-export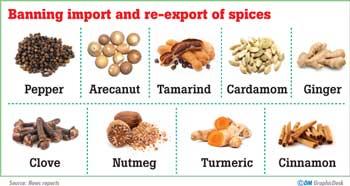 By Ajith Siriwardana
The government yesterday issued a gazette notice banning the import and re-export of pepper, arecanut, tamarind, cinnamon, ginger, clove and several other crops with effect from Thursday midnight.
The Gazette has also banned the re-exporting of garbage, the processing of garbage or recourse recycling for re-export.

The decision was taken by Finance Minister Mahinda Rajapaksa.to protect and promote minor crop cultivators and small and medium scale industrialists.

Another gazette notice was issued under the Import & Export (control) Act to regulate the import of Vesak Lanterns, kites and incense sticks which were a competitive household industry in Sri Lanka.

However, the Ministry said there was no ban for domestic re-cycling projects.
The decision was taken by Finance Minister Mahinda Rajapaksa.to protect and promote minor crop cultivators and small and medium scale industrialists