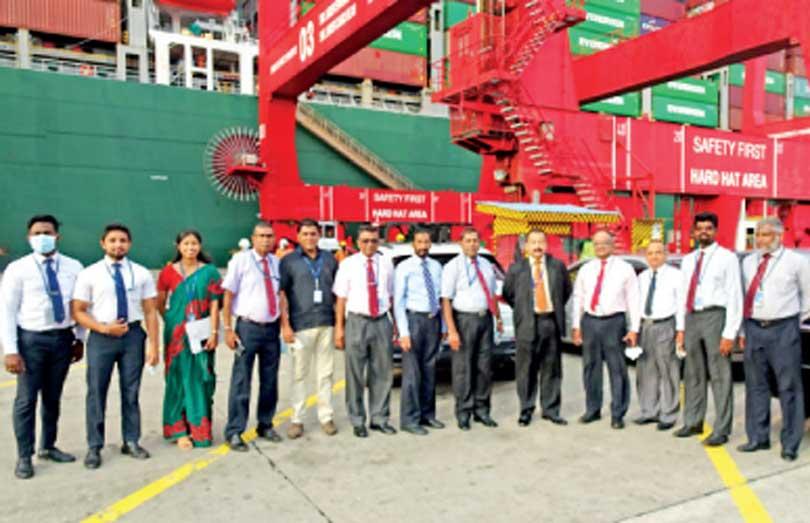 The waste containers were first detected in 2019. They had been illegally imported in 2017
By Kurulu Koojana Kariyakarawana
Sri Lanka Customs yesterday began repatriating the first batch of the controversial 242 container loads of garbage to Britain following last week's Court of Appeal order to reship the consignment with immediate effect.
Customs Additional Director General and Spokesman Sunil Jayaratne told Daily Mirror the Customs Social Protection Unit was handling the operations of repatriating tons of trash back to the UK, from where it was sent.
As a result, the first batch of 20 waste containers were loaded on to a vessel named 'Texas Triumph' docked at the Colombo Harbour, which was scheduled to depart last evening (30) and sail directly to the port of Rotterdam in Netherlands on a transit to the UK in another vessel.

The CA ordered the Customs last week to repatriate the waste containers following an appeal filed by the Centre for Environmental Justice for importing a hazardous waste material into the country by a private company named Colombo Metal Industries through a local hub operator without the knowledge of the Central Environment Authority (CEA).

When the case was taken up last July the Attorney General's Department informed the CA that the British Government was in the process of conducting an inquiry on the British company that had exported the waste material violating the international treaty, Basel Convention on the Control of Transboundary Movements of Hazardous Material, which was signed by 53 signatories in 1989.
The Board of Investment (BOI) Sri Lanka issued a directive to all its hub operators prohibiting the import of post-consumer materials and engaging in any resources recycling activities of any form.
The Customs, in early 2019, detected the waste containers, which had been illegally imported in late 2017 and were lying at the Colombo Harbour and in a hub operator's yard. They had been imported falsely declaring to extract metal from used mattresses for re-export purposes.
However, the Customs investigations revealed that the motive of the involved companies was to be part of multi-million dollar trade of disposing international waste in Sri Lanka, and re-exporting of metal extracted from mattresses was a cover-up.

The official said the first batch of 20 containers of the 112 containers lying at the Colombo Port was to be dispatched yesterday, whilst the remaining 130 already cleared waste containers are laying at the premises of a private hub operator, which is functioning under the BOI.

Customs Social Protection Unit Superintendent Ashrof Samsudeen with Assistant Superintendents Ms. Thilini Jayasundara, K K M Saleem and P G Gagana are conducting investigations on the instructions Customs Director General Maj. Gen. (Rtd) Vijitha Ravipriya, Addn. Dir. Gen. Lal Gajadheera and Director Social Protection S P I Balasooriya.

The next batch of 65 waste containers is scheduled to be dispatched on November 4.
The first batch of 20 waste containers were loaded on to a vessel named 'Texas Triumph' docked at the Colombo Harbour, which was scheduled to depart last evening