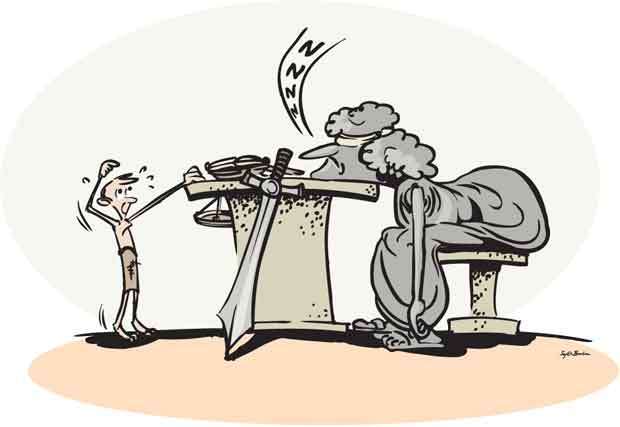 This nation has proved time and again that it needs stricter laws and also a strong president who can keep a check on activities which can get out of hand. These days, quite regularly, we get to read so much in newspapers about gang violence and people being arrested with narcotics in their possession. Some of them end up in jail and a few are sentenced to death, with the latter verdict still being converted into a life imprisonment. The bottom line to all this is that the environment prevailing in the country is leading to a certain lawlessness.
We can't forget the fact that the security forces of this country successfully quelled a war against separatist Tiger rebels. During the three-decade war, specially during the latter stages of the conflict, the avenues open for illicit activities were efficiently sealed. That was the level of tight control the authorities had over the country.
But today we see drug peddlers having their way and minting money. Cannabis and illicit cigarettes seem to circulated freely. Whats most frightening is that so much of it being made available to guests at beach parties and social gatherings. Very recently 28 people were arrested at a DJ Beach Party in Mount Lavinia when they were in possession of cannabis and illicit cigarettes.
Drug trafficking is a serious offence and most countries have strict laws serving as deterrents. But in Sri Lanka we are still struggling to reintroduce the death penalty on those nabbed for drug trafficking.
As of now, what we know is that President Maithripala Sirisena intends to reintroduce the death penalty on inmates who are on death-row and continue to engage in drug trafficking. It's known that the prison is a place where certain privileged inmates can obtain narcotics of their choice at the snap of a finger. This is why it's essential to start clearing this rut at the place where such notorious activities happen freely.
The Kandy Division Anti-corruption Unit has unearthed something interesting. There were reports of seven armed gangsters being arrested in Kandy. What was revealed from this operation was that these suspects were alleged to have been trafficking cannabis.
Most gangs, which terrorise people, are also involved in drug trafficking. There was also a recent report of a hotel owner in Marawila being harassed and his property being damaged by a gang that was armed. There were also reports of a shooting incident inside a state owned bank in Matara.
Adding to this mayhem was a shooting incident at a hotel in Weligama and topping all this up was the riot incident at the Welikada Prison. These incidents give us the indication that we have a serious issue regarding the security of citizens in this country.
If this Government is criticised for many things, what seems to be the mother of all sins is the authorities not implementing the law equally. The case against former Central Bank Governor Arjuna Mahendran, who is accused in the controversial Central Bank Bond Scam, is a classic example. Many believe that the Government allowing Mahendran to leave the country at will questions the Government authorities' commitment towards building a corrupt-free and safe nation. Mahendran's exit from this country suggests that any criminal can leave this country without being detected by the Government 'radar'.
This Bond Scam and the Government struggling and failing to see this case conclude, gave the picture to the rest of the country that the authorities don't wish to have a no-nonsense tag pinned on it.
After the ethnic conflict what we are seeing within a seemingly peaceful nation are cracks caused by incidents of lawlessness.
Armed gangs and illicit narcotics have no place in a just society where the law is strict and above all. This country is screaming for a leader who will make it part of his mission to put an end to this gang culture and irradicate drug trafficking for good.