---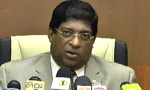 The World Bank has pledged assistance worth US $ 1340 million to Sri Lanka which will be on a dual format, Finance Minister Ravi Karunanayake announced today.
The Minister said the total sum pledged by the World Bank will comprise US 440 million as development assistance at the rate which could be as low as 2 per cent while it had also received a further US $ 900 million with a higher interest rate in the form of normal assistance.
"Sri Lanka lost development assistance for which the interest rate is much less as its per capita income reached $ 4000 in the recent past. However as a result of negotiations which Sri Lanka had with the donor Sri Lanka getting a mixed assistance," the minister said.
"The World Bank must have surely taken up by the financial discipline which Sri Lanka has shown in the recent past as well," he added assuring that the assistance would be put to good use.
Video by Buddhi