---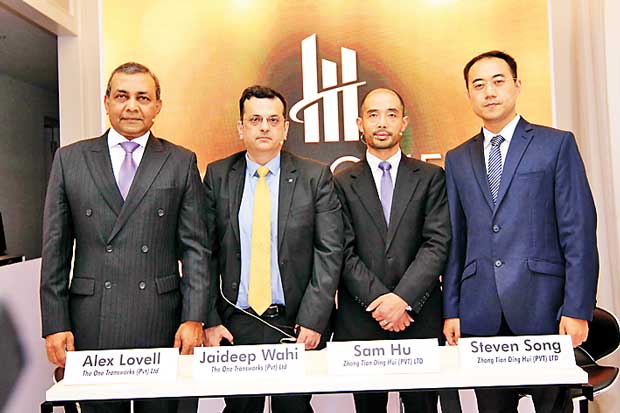 From left: The One stakeholders Alex Lovell, Jaideep Wahi, Sam Hu and Steven Song from Zhongtian Construction
Pic by Damith Wickramasinghe
'The One', an ambitious property development project with a price tag of US $ 500 million in the heart of Colombo, is hoping to bring back its former glory to the Colombo Fort area.

The One will comprise of two super luxury hotels with 473 keys, a luxury retail mall, a commercial complex and 638 beautifully crafted apartments located on 4.3 acres of prime real estate.
Addressing a media gathering this week, which also marked the launch of The One's website, The One stakeholder Alex Lovell said that the demand for The One was unprecedented.

"Even prior to the launch, the Ritz Carlton residential units have sparked phenomenal interest both locally and internationally. Phase 1 is already sold out, while Phase 2 has had several pre bookings. This is extremely encouraging not just for us as developers but for the Sri Lankan economy as a whole."

Construction of The One commenced in September 2017 and Phase 1 is due to be completed in December 2021.

The apartments will range from 1700 square feet – 4000 square feet, comprising two to four bedrooms, with a square foot being priced at US $ 450 upwards. The architect of the project is the CCDI Group who has an outstanding history offering integrated professional services for urban regeneration developments.

Their most notable project is the Beijing National Aquatic Centre.

The Construction, management and marketing of The One is handled by the Zhongtian Construction Group, under the guidance of the Marriot.

The Zhongtian Construction Group, which is one of the stakeholders of The One, is a US $ 10 billion private construction group that integrates civil construction, real estate, property development, media, investment and education and is among the 50 top private enterprises in China.

With The One in full glory, the 200-year-old heritage site, The Transworks House, will be creatively reimagined as an international designer collective featuring some of the world's leading brands.

"As one of South Asia's tallest buildings, The One is waiting to transform your way of life and it is our intention to make The One a landmark destination in Sri Lanka and the region," said Lovell.