---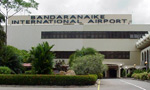 Transport and Civil Aviation Ministry Secretary said today he had instructed Airport and Aviation Services (Sri Lanka) Ltd Chairman to act in line with the court ruling and provide contracts to companies which have successfully tendered to operate travel-service counters at the Bandaranaike International Airport (BIA).
"I received the court ruling on Monday and I instructed the Chairman to award the contracts to selected companies with immediate effect" Ministry Secretary Nihal Somaweera said.
Tenders for travel-service counters which are for a three-year period were called on December 30, last year. The ministry had received 19 bids and had chosen the six highest bidders.
A source said the ministry had incurred a loss of Rs.60 million since March this year because of the delay in entering into contracts with the success travel companies.
The delay had resulted in the Airport and Aviation Services Ltd. which is under the purview of the ministry, to incur a loss of Rs.5.3 million a month.
The source said the companies now operating at the BIA had paid a total monthly rent of Rs.3.3 million, however, under the new tender requirement they had agreed to pay a total monthly rent of Rs.8.6 million.
None of the companies operating service counters had vacated their premises at the end of the previous agreement in February this year. Among the current batch of six companies, three had won their bids to continue operations and agreed to pay the increased rental but they were continuing to pay the previous rental.
The source said the ministry had informed the new bidders that the tender for 2016 had been cancelled in June, prompting legal action by the other three companies. The Court of Appeal had directed that the tender procedure be followed.
Mr. Somaweera said the delay was because several companies had appealed against the tender procedure.(Darshana Sanjeewa)