CMA National Management Accounting Conference will be inaugurated on 11th July at Cinnamon Lakeside.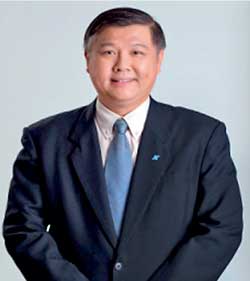 The technical sessions will be held on the 12th and 13th July. The CMA Excellence in Integrated Reporting Awards for the ten best companies, the overall winner, 1st and second runner up will be presented Awards that evening by Minister of Industry and Commerce Rishard Bathiudeen.

He will address the participants on the topic "Total Cost Management to gain competitive advantage in Industry".

The keynote address will be delivered by Prof. Ho Yew Kee - Head, Department of Accounting -National University of Singapore. He will speak on the topic "Total Cost Management in Development of the Economy - Singapore Experience".

His address would cover Singapore then and now and the long journey they have traversed.
Professor Ho Yew Kee is the Head, Department of Accounting of the NUS Business School, The National University of Singapore. He is an accountant by training having obtained his Bachelor (First Class) and Master of Economics from Monash University, Australia. He also obtained his Master in Industrial Administration and PhD. from Carnegie Mellon University (CMU), USA. He has taught at Monash University, CMU, and currently is professor of accounting at the NUS Business School. Professionally, he is a Fellow CPA Australia and a Chartered Accountant Singapore. In addition, he holds the Chartered Financial Analyst (CFA) qualification.

Professor Ho teaches Accounting and Financial Management in the Executive MBA (EMBA). At the university, he was previously the Master, King Edward VII Hall of Residence and had served as the Vice- Dean (Finance & Administration), Chairman, Executive Education and Director of MBA of the NUS Business School. He has won numerous teaching and research awards and has published extensively in journals, books, newspapers and conference proceedings in accounting, finance, law, human resource management and industrial organizations.

Professor Ho is on the Council of the Institute of Singapore Chartered Accountants (ISCA) and is the Chairman of the Membership Committee. He is also a director of a listed insurance company in the Singapore Stock Exchange. Professor Ho is an executive trainer and has taught in many Executive Development Programmes, (for example, Stanford-NUS Executive Programme, MacDonalds, Asahi Glass, DHL, Alcatel-Lucent, Astra, Monetary Authority of Singapore, National Healthcare Group, among others). He also serves as a financial consultant for corporations and expert witness for litigation purposes.

The conference is specially meant for Directors, CEOS, Management and Financial Accountants, Managers and Executives in Marketing, IT, Human Resource, Banking, Finance, Insurance, Key Management of State Owned Enterprises and Government, lecturers of Universities, Technical Colleges, Professionals and others in industry, commerce, non- profit institutions and professional bodies..

Those interested to register for the conference can contact Shanthi on 071-4705536
e mail: registrations@cma-srilanka.orgon or before 30th June. Special discounts will be applicable based on the number of registrants.